AFC West:
4. Oakland Raiders 2-14 (Last Year: 4-12)
The Raiders have been bad enough for long enough that there should be some signs of them turning it around. Unfortunately consistent bone-headed moves have left the Raiders in some muck and mire as opposed to a positive outlook. Certain top picks not developing as they should (Robert Gallery, Michael Huff, JaMarcus Russell) and meaningless high price signings (Javon Walker Gibril Wilson, and DeAngelo Hall) serve only to split apart a team identity. Half the players are veterans, half are inexperienced. The Raiders should back off going for the big names with zero returns and try to develop a young mature nucleus. Trading for an overrated player like DeAngelo Hall and signing him to a lucrative contract is a total waste. That money should be going towards Nnamdi Asomugha, one of the best young corners in the game. A lot of their hope is riding on the performance of new first round pick Darren McFadden. McFadden took a bit of a credibility dive in the draft, and his prospect as a #1 RB in the NFL is still something he needs to prove. JaMarcus Russell has clearly not shown the drive to be a top flight QB via his consistent weight gain. The team is a mess filled with overrated and under achieving players with questionable character. Not good.
Best Fantasy Player: Darren McFadden, RB - McFadden has a lot to prove, and he'll be given the keys from the get go. There won't be much help around him on the offensive side of the ball.
3. Denver Broncos 7-9 (Last Year: 7-9)
Jay Cutler is looking to step up and have a much more productive year. He can put his diabetes behind him and focus on winning football games. He finally has a go to receiver in Brandon Marshall, but the Broncos are finding it harder and harder to find a RB they can just plug into their offense. The offensive line is not what it was a couple of years ago, and they need to get more pressure on the defensive side of the ball in order for CB's Champ Bailey and Dre Bly to be effective. I don't see Cutler making the strides he should. It'll be another playoff miss in the Mile High City.
Best Fantasy Player: Brandon Marshall, WR - The plus is that his 4-game suspension has been reduced to 1 game, limiting the hit to his fantasy value. He is a big, athletic receiver and Cutler will not be afraid to throw the ball up for him.
2. Kansas City Chiefs 10-6 (Last Year: 4-12)
The Chiefs lost 9 straight games to end their year in 2007. In spite of Larry Johnson returning from a nagging foot injury, the Chiefs could not put things together. However, with LJ back on track and rested after missing time last year, QB Brodie Croyle developing, and WR Dwayne Bowe emerging as a big time threat the offense seems to be on track. The defense got a boost with 1st Round Pick DT Glenn Dorsey. The loss of Jared Allen to Minnesota is a tough pill to swallow, but if they can get even a little more out of their offense, the Chiefs may be able to surprise some teams this year.
Best Fantasy Player: Larry Johnson, RB - Only 2 years removed from being one of the most dominant fantasy backs in the league, LJ hit some injuries last year. His offensive line isn't good, but he has shown a great ability to find the end zone. His offensive line is suspect, but Head Coach Herman Edwards won't be afraid to feed LJ the ball.
1. San Diego Chargers 12-4 (Last Year: 11-5)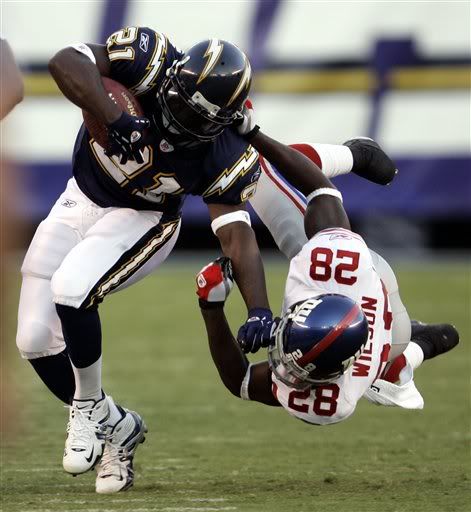 The Chargers have a lot to prove this year. After falling short of the Super Bowl the previous two years, the Chargers are a team right at their peak. QB Philip Rivers has earned the respect of his teammates through his gutsy performance in last year's playoffs, and RB LaDanian Tomlinson is running out of top performance years. The biggest issue for the Chargers are their injuries. TE Antonio Gates needs to come back in full strength from his toe injury, and star LB Shawne Merriman has made the decision to play this year with two torn knee ligaments. Brave? Sure. Should he do it? No. Obviously he thinks he can perform at his All-Pro level, but that remains to be seen. Plus he is at risk at doing severe damage to his knee. Any play this season, his knee could go.
Best Fantasy Player: LaDanian Tomlinson, RB - Just because I said LDT only had a couple years left does not mean he is slowing up any time soon. He's getting pushed by Adrian Peterson for top fantasy guy, LDT's consistency is what keeps him on top of a fantasy draft board.
NFC West:
4. St. Louis Rams 4-12 (Last Year: 3-13)
Injuries are what hurt the Rams last year. Everyone of their key offensive starters went down at one point or another, but it was their defense that leaves them in a rough situation. It also didn't help that RB Steven Jackson held out all of training camp. He is sure to be rusty when the season kicks off. This is a team that is going to need to light up the scoreboard in order to have a chance this year.
Best Fantasy Player: Steven Jackson, RB - The hold out will hurt him, enough to drop him behind Joe Addai on many fantasy big boards. What Jackson does have is the luxury of being able to catch out of the backfield as well. He'll get his touches, but his productivity may get off to a slow start.
3. Arizona Cardinals 6-10 (Last Year: 8-8)
With too many good receivers and too many QB's the Cardinals are a team in limbo. They can't quite decide whether they want to win now or develop young talent. The problem is that the NFC West is so terrible, any of these teams have a shot at winning it. Kurt Warner was recently named the starting QB after party boy Matt Leinert couldn't cut it on the field. Off season disputes with their top two receivers, Anquan Boldin and Larry Fitzgerald, are still a problem with Larry Fitz getting $30 million in guaranteed money and Boldin wanting more in return. If Boldin gets onboard, the offense could be good. A tough schedule may put the Cards on their back this year.
Best Fantasy Player: Larry Fitzgerald, WR - I have a football man crush on Larry Fitzgerald. The guy is just a beast, and he is the top young receiver in the NFL. He has all the tools and abilities he needs to be dominant for years to come. For whatever Warner is, he can get Fitz the ball. TD's aplenty will be coming.
2. Seattle Seahawks 9-7 (Last Year: 10-6)
In a transition, the Seahawks are moving from a running team to a pass happy team. They do have some of the pieces in place to make this work, but they don't have the receivers to make their passing attack truly effective. No one commands a double team, and that makes it difficult to stretch the field. Seattle has been steady, but I think it's about time they had a slip up.
Best Fantasy Player: Matt Hasselbeck, QB - Hasselbeck will benefit from this pass happy offense. He had a lot of passing yards, but still fell short on his TD totals...probably due to the lack of WR help.
1. San Francisco 49ers 10-6 (Last Year: 5-11)
No, this isn't a return to dominance, but the Niners have a shot to make some waves this year. They have invested heavily on their defense the past couple of off-seasons and their drafting has given them one of the top LB's in the league in Patrick Willis. The offense has been the hang up, and with Mike Martz making the play calls, the offense behind RB Frank Gore and new QB J.T. O'Sullivan have the potential to surprise some people. The defense is going to have to step up, but as long as former #1 pick Alex Smith doesn't see the field, it'll be a good thing. Oh, and as for that
apology
from last year Alex...I think it's safe to say you're not gonna get it.
Best Fantasy Player: Frank Gore, RB - Although Martz's pass happy MO may harm Gore's touches, Martz can't turn water into wine. Gore is his top offensive threat and will have no choice but to get him the ball. This may come in the form of a few more receptions, but so be it.