Well, the season begins tomorrow, and I'm pumped. I missed football, and I'm glad it's back. Sure the Giants and Redskins "kicked off" the season on Thursday (if you wanted to call that game professional football), but the whole shebang gets going in 24 hours. Good times. Here are the final predictions for the divisions.
AFC East:
4. Miami Dolphins 3-13 (Last Year: 1-15)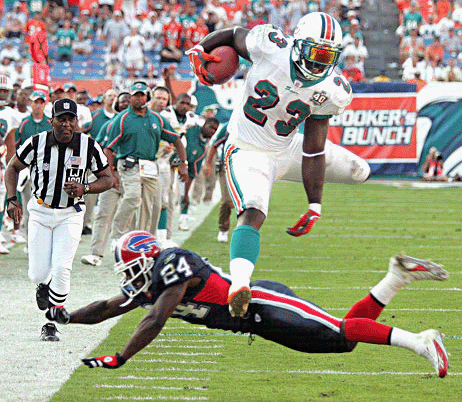 The Dolphins narrowly avoided going winless last year, and will probably go through similar struggles this year. Their division is tougher, but the Phins have a head on their shoulders, so to speak, after bringing in The Big Tuna (ironic) Bill Parcells to revamp the team. #1 overall pick Jake Long will hopefully not be a bust at left tackle, and they plucked QB Chad Pennington from the waiver wire from the Jets. Sure Pennington isn't the long term answer, but he'll give the team some stability as they establish themselves.
Best Fantasy Player: Ronnie Brown, RB - Before going down by injury, Ronnie Brown was a very productive fantasy player. His injury history is a concern and apparently Ricky Williams is back in the mix, but this is Ronnie's year to prove himself not to be a bust.
3. Buffalo Bills 8-8 (Last Year: 7-9)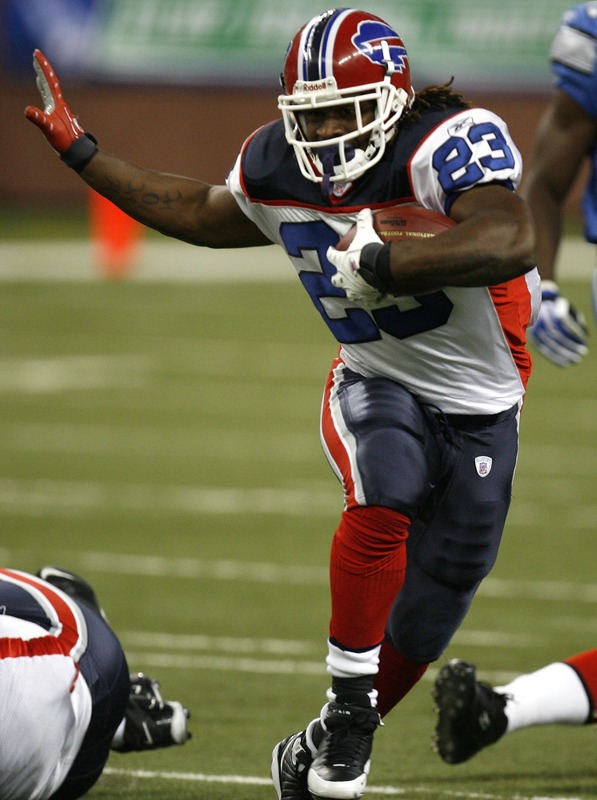 There is always a buzz around the Bills as an up and coming team. Now that J.P. Losman is thankfully removed at QB in favor of Senator Trent Edwards, the Bills may be turning a corner. As long as Marshawn Lynch can stay out of prison and Toronto brings the Bills north of the border, there are positives to be had.
Best Fantasy Player: Marshawn Lynch, RB - Marshawn had a rookie year of 1,000+ rushing yards and 7 TD's. I would look for those numbers to increase to close to 1,400 yards and 9 TD's. Enjoy it before he gets his new deal out of his rookie contract and subsequently becomes the new Pacman Jones.
2. New York Jets 9-7 (Last Year: 4-12)
Obviously the biggest story for the Jets was the acquisition of Brett Favre. This put the Jets on the map, and will be the move that everyone looks at for the Jets turn around. The real reason will be the Jets offensive line and the addition of All-Pro guard Alan Faneca. Look for Thomas Jones to have a big year. I think Favre will come out firing, but wear down as the season progresses. He'll throw his share of INT's and probably end up costing the Jets a playoff spot. However, if top pick Vernon Gholston turns out to be the beast a lot of people think he is, the Jets could bump up 2 wins.
Best Fantasy Player: Jerricho Cotchery, WR - Cotchery, not Coles will be the largest benefactor of Favre being the QB. Cotchery is a large receiver with good hands, and that is the kind of receiver Favre gravitates towards. Also, look out for TE Chris Baker to add some TD's to his solid receiving yard total.
1. New England Patriots 13-3 (Last Year: 16-0)
What a bizarre season for the Pats. The ultimate highs and the ULTIMATE low carried the Pats season. In the end, the mental strain of being undefeated was too much to handle. The Giants defensive line blew up the most prolific offense in the league, and it will be a challenge to see how the Pats rebound. Now, it's not the Pats goal to go undefeated again. It's their goal to win the Super Bowl. The Pats will almost be relieved when they lose their first game this year just to get that monkey off of their back. The looming cloud over this team is the possibility of QB Tom Brady's foot. Is it cracked? Is it broken? Is it bruised? Who knows? We're certainly not getting any info from Bill Belichick. On a side note, I read a Belichick biography this Summer, and the funniest part of the book was when the author mentioned Belichick's voice mail message. It was, "Sorry to have missed your call." That's it, and it's funny on about 12 levels if you know anything about Belichick.
Best Fantasy Player: Wes Welker, WR - He may not be the most prolific guy, but he's the best bet if Brady goes down to injury. He won't be hindered if back up Matt Cassell gets in the game, like Moss would, and the running game and Lawrence Maroney are a lost cause.
NFC East:
4. Washington Redskins 6-10 (Last Year: 9-7)
For all the good things the Skins did last year, having Joe Gibbs retire and bringing on inexperienced Mike Zorn and implementing the 4th new offense in QB Jason Campbell's career, they took a big step back. The only positive is that a new running approach could benefit Clinton Portis, who was run into the ground last year. Things are gonna get off to a slow start in the nation's capital.
Best Fantasy Player: Clinton Portis, RB - He is their go to guy. Someone has to score the TD's.
3. NY Giants 9-7 (Last Year: 10-6)
No matter how lucky the Giants were last year, no matter what they lost on defense, they are...the defending Super Bowl Champions, and they can't miss the playoffs. Can they? Anyway, I can't really talk much about the Giants. Them and Eli Manning winning the Super Bowl was an absolutely scarring sports experience. Let me also say, shame on all you Eagles fans that WANTED the Giants to beat the Pats. First off, you can never EVER root for the NY Giants unless they're playing an intergalactic football team for control of the planet Earth, and you know what, I'd have to wait and see what the aliens had to say before I made my choice. Secondly, and this is what bothered me the most...the only reason Eagles fans wanted the Giants to beat the Pats was because they hated the Pats because they were jealous of their success. As petty as that sounds, that was the reasoning. What bothers me about that is if the Eagles were in the Pats situation, these same people would be the most obnoxious annoying fans that have ever set foot on this planet. I hate you all. And here is the nail in the coffin for all you "I'm just rooting for the Giants in this game" fans. I hope this makes you
sick
.
Best Fantasy Player: Plaxico Burress, WR - Let's see, Plax had 1,025 receiving yards and 12 TD's with a bum shoulder, bum ankle, never practicing, and a non-Super Bowl MVP Eli Manning throwing him the ball. I see a better year ahead.
2. Philadelphia Eagles 10-6 (Last Year: 8-8)
This is the first year since I've been doing this that I haven't picked the Birds to win the division, and can you blame me? A couple of lackluster/borderline heartbreaking years have left my beloved Birds at a crossroads. This is it for Donovan McNabb. If he wants to QB in Philly next year, then he has to have an MVP quality year, which isn't totally out of the question. The Birds made some game changing moves by adding CB Asante Samuel and drafting potential Rookie of the Year candidate Desean Jackson. There is a lot to be excited about, and lately the Birds have been picked to go the the Super Bowl (by ESPN and Sports Illustrated)! To be honest, I was gonna pick the Birds to be 7-9 this year, but all this buzz has suckered me into a 10-6 year. I'm looking forward to the year. It could be something unexpected.
Best Fantasy Player: Brian Westbrook, RB - The NFL's leader in all-purpose yards last year will have an absolutely phenomenal year. This is his time to separate himself from every other RB on the planet. His ability to catch the ball out of the backfield will be taken to a whole new level, especially with new RB Lorenzo Booker in the backfield. The options are boundless.
1. Dallas Cowboys 11-5 (Last Year: 13-3)
At this point, expecting Tony Romo to perform in the playoffs is like expecting to have your dinner in Hell's Kitchen arrive on time. When you add in the fact this guy is STILL with Jessica Simpson and her idiot brain doesn't say much about his decision making. The Cowboys are going for it, and they have all the cards in place to make a legitimate run. Their defense is overrated by a ton, and Pacman Jones is going to have a minimal impact. Plus, the story line that is going unnoticed is that this team is a powder keg of people. Terrell Owens, Pacman, Tank Williams, I mean come on something has to give. I'm putting the Cowboys on notice, their window for winning a Super Bowl is now at 2 years. The team is getting older, and once TO is washed up Romo won't be as effective and it will be a whole domino effect. When you're entire team rests on the performance and mental stability of Terrell Owens, you have to count your blessings each year.
Best Fantasy Player: Marion Barber, RB - He's a TD machine. Felix Jones isn't a threat to his playing time. Look for a typical 80 yard 1 TD game from Barber. I think he'll make it to 20 TD's this season.