AFC South:
4. Tennessee Titans 6-10 (Last Year: 10-6)
Well I had no idea the Titans were 10-6 last year. Nor did I know that they made the playoffs?!?!?! Vince Young took about 8 steps back as far as his progression goes, and the Titans have done nothing to address the needs of their superstar QB (signing a washed up Alge Crumpler does not count). The more I think about it the more I can't believe the Titans were that good. The only positives I can think about are the defense, lead by All-Pro DT Albert Haynesworth, and the Titans kicker Rob Bironas having a pretty good year. There is something to be said for winning tight games, but a lack of addressing key needs on offense will cause the Titans problems.
Best Fantasy Player: Chris Johnson, RB: Chris Johnson should have no problem finding playing time with the Titans run heavy attack. Speaking of heavy, starter LenDale White might take some of Johnson's goal line attempts, but he is by no means a shoe-in when it comes to holding down his spot from the more explosive Johnson.
3. Jacksonville Jaguars 9-7 (Last Year: 11-5)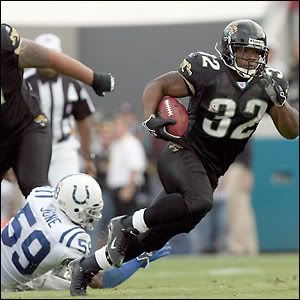 Jacksonville is just the team that will not die. Seemingly lacking in talent or star players, the Jags always put together a tough, physical team that contends in the AFC South. Last year they got a great year from new starting QB David Gerrard, and they look to capitalize on his newly found confidence. On offense, their main weapons are their tall receivers and the RB tandem of veteran Fred Taylor and diminutive Maurice Jones-Drew. There are a couple more years on these guys, and Jacksonville's physical style could start taking a toll on them this year.
Best Fantasy Player: Maurice Jones-Drew, RB: A potential bust last year, Jones-Drew finished with a solid 9 TD runs. Fred Taylor may be a little less effective this year, so look for Jones-Drew to up that total a little.
2. Houston Texans 11-5 (Last Year: 8-8)
Here is what I like about the Texans. They have an explosive offense in place and primed for a big year. First year starter QB Matt Schaub was having a solid year in Houston until his number one threat, WR Andre Johnson, went down with an injury limiting the potential of the Texans attack. Also, you have to love the young and explosive defense the Texans have. LB DeMarco Ryans has become one of the most fearsome playmakers in the league, and DE Mario Williams had a phenomenal second season coming off his much scrutinized #1 selection over Vince Young and Reggie Bush. Williams looked like he may be able to fulfill the Bruce Smith comparisons that headlined his selection by now NFL Analyst, former GM Charley Casserly. After losing his job over the pick, Casserly must surely be walking around in a Williams jersey and two middle fingers in the air. It's always good to be right.
Best Fantasy Player: Andre Johnson, WR: Andre Johnson is the best receiver you haven't heard of. Due to some injuries the last two years and being on a subpar team, Johnson has been one of the most productive players at the position. With another year of experience with Schaub, an increase in his numbers aren't out of the question.
1. Indianapolis Colts 12-4 (Last Year: 13-3)
The Colts are the same today as they've been for the past half dozen years. As long as Peyton Manning can recover fully from off-season knee surgery then things will be running on all cylinders. Keep an eye out for WR Marvin Harrison to lose a step with Reggie Wayne taking over as the top receiver and second year guy, Anthony Gonzalez, to have a TD happy year.
Best Fantasy Player: Peyton Manning, QB: Peyton is what makes this team go. He has a choice of any of his offensive weapons, and he knows how to get the most out of them. Right, Dallas Clark?
NFC South:
4. Carolina Panthers 0-16 (Last Year: 7-9)
WE DID IT!!! WHOOOOO!!! Eagles have the Panthers #1 pick this year so...there you have it. In all honesty though, the team is old and crappy. Steve Smith is punching out starting defensive backs. It is chaos over there. I look forward to rooting against Carolina intensely this year.
Best Fantasy Player: No one. Welcome to the team Tyson Jackson.
3. Atlanta Falcons 3-13 (Last Year: 4-12)
Uh-oh, I forgot about the Falcons. They could challenge Carolina for worst team. Then again this is the worst division in football. The Falcons are still in a regrouping stage. They have rookie QB Matt Ryan to try and be the new face of the franchise. WR Roddy White had a mild break out year, and the addition of highly regarded Michael Turner at RB could be the building blocks of something good.
Best Fantasy Player: Michael Turner, RB: LaDanian Tomlinson's understudy in San Diego, Turner made his name by essentially breaking off 50+ yard runs whenever LDT needed a breather. His speed and strength caught a lot of people's eyes, and as long as Atlanta limits his carries and gives him a year to acclimate to a starting position, Turner could be solid for years to come.
2. Tampa Bay Buccaneers 10-6 (Last Year: 9-7)
The Bucs were the surprise team last year. They had a resurgent Jeff Garcia passing to a resurgent Joey Galloway, which suited their needs, while RB Earnest Graham filled in for injured Cadillac Williams. The Bucs were in the middle of the Favre mess as a potential team, but Brett passed on the sun of Tampa for the hunting woods of North Jersey. It's not so much that the Bucs are good, as the rest of the division and much of the NFC stinks. Here's to one more decent year from all these old guys.
Best Fantasy Player: Earnest Graham, RB: This is a bit of a risky picks since incumbent starting RB Cadillac Williams is expected to have some kind of impact this year, but he really can't be counted on. At worst, Graham will be a solid goal line option in Tampa.
1. New Orleans Saints 11-5 (Last Year: 7-9)
The Saints are a better team than what they showed last year. They're not as good a team as they were two years ago. The difference is the Saints are riding high off a huge year as they did last year. Drew Brees has a new buddy in TE Jeremy Shockey's arrival from New York, and Deuce McAllister is once again healthy, only waiting for a couple of weeks until his next knee ligament injury. WR Marques Colston has proven himself as a top wide out and could emerge as an elite #1 with Brees behind him. The main question on the offensive side of the ball is RB Reggie Bush. The All-American from USC has had an on again off again start to his NFL career. What it appears Bush is, is an effective second RB. He can catch passes, return punts, and get about 15 carries a game, but due to his inability to get to the line quickly, Bush may not fulfill his superstar potential. Also, him spending all Summer with his girl friend, Kim Kardashian, can't be helping his football IQ at all.
Defense is where the Saints most glaring holes lie. They have acquired Jonathan Vilma from the Jets, but his shoddy knees keep him from being the player he was in New York. I can see the Saints making for an exciting regular season, but leaving the playoffs early.
Top Fantasy Player: Drew Brees, QB - Brees has become a really prolific player in New Orleans. His passing numbers are up and with a refocused team, Brees should produce around a Brady and Manning level.