Time to kick off the 2008 NFL Preview. I have to admit, this Training Camp has been one of the most loathsome in recent memory. Players in every camp are holding out, complaining about contracts, holding teams hostage and so forth. The NFL is really going down a slippery slope of maintaining the least likable athletes out of any major sport, but the sport itself is awesome and it's probably not going to stop any one from watching. It just leaves a sour taste in my mouth is all. Anyway, ONWARD!
AFC North:
4. Cincinnati Bengals 4-12 (Last Year: 7-9)
This Bengals team is a mess, and you have no one else to blame other than Marvin Lewis and the front office of this team. They finally have a nucleus of talent around Carson Palmer, Rudi Johnson, T.J. Houshmazadeh, and Chad Johnson and they go and ruin it by drafting players with a "rough" past to put it nicely. I guess they figure giving 21 year old kids with a criminal record a couple hundred thousand dollars wouldn't be a bad idea. Well, it has done nothing but bite them in the ass. Former top Linebacker Odell Thurman is out of the league, half the team has been arrested, and franchise QB Palmer and seemingly calm WR Housh have to be looking around the locker room and wondering what the hell is going on. Rudi Johnson's body has worn down after years of running and
Chad Johnson
is a viable lunatic. This team is on a bus ride to hell. It could get ugly.
Best Fantasy Player: Carson Palmer, QB - His star WR might be a olive short of a martini, but as long as he shows up and plays, Carson Palmer has plenty of weapons to pad some numbers.
3. Baltimore Ravens 5-11 (Last Year: 5-11)
The Ravens are running on fumes at this point. Two years removed from a 13-3 record, the Ravens are at the same time the Ravens you know and love, and a shell of their former selves. The defense is still the focal point with Ray Lewis, Ed Reed, Terrell Suggs and Chris McAllister still in play but all (with the exception of Suggs) past their prime. The franchise as a whole hasn't been able to put together a productive offense for as long as they have been in Baltimore. Willis McGahee had a solid first year in B-more, but with Hall of Fame Tackle Jonathan Ogden recently retired, McGahee (already coming off a preseason injury) will have a rough go of it. Top pick Joe Flacco is a couple of years away, at best, and this aging team has some tough times ahead. The only shot the Ravens have are signing
Omar
to play Wide Receiver.
Best Fantasy Player: Todd Heap, TE - McGahee will be the focus of every defense every week, so the only shot for fantasy glory comes from *gulp* Kyle Boller's ability to dink and dunk some passes to Heap. You never know what Heap you'll get, the All-Pro or the Heap of shit. He's the safest bet though.
2. Cleveland Browns 9-7 (Last Year: 10-6)
The Browns were a nice story last year. After realizing the mistake they made trading for Brady Quinn, they found that they had their Number 1 QB all along in Derek Anderson. Along with a rejuvenated Jamal Lewis and Braylon Edwards finally becoming one of the top receivers in the league the Browns have a potent offensive attack. Head Coach Romeo Crennel is working on the defense, and there is a lot of potential for the maligned team in Cleveland. However with a tough schedule and more teams having some film on Derek Anderson, the Browns may have to take a step back before they can go forward.
Best Fantasy Player: Braylon Edwards, WR - After finding a QB he meshes with and realizing his natural talent, Braylon Edwards stayed healthy and developed into one of the top young WR's in the NFL.
1. Pittsburgh Steelers 12-4 (Last Year: 10-6)
I wish I knew how the Steelers keep doing it. They just always throw out a competitive team. Coaching changes, players moving on, their star quarterbacks face going through a windshield...it all just works out for them in the end. At this point the Steelers are more of an idea than a football team. If you're a Pittsburgh Steeler then that means you play hard hitting and aggressive football. The boys in Steel Town only added to this persona by drafting RB Rashad Mendenhall in the 1st Round of the draft. They lucked out on that one, and the stocky and powerful Mendenhall will be an excellent compliment for Willie Parker and free up some options for Ben Roethlisberger, who is coming off a nice rebound year. The Steelers will be a dominant team this year.
Best Fantasy Player: Willie Parker, RB - Fast Willie finally got some touches in the red zone last year and that equated to more TD's. With no Jerome Bettis around, Willie shined. As long as he keeps Mendenhall from taking over goal line situations, then he should be due for another big year even with out the departed Alan Faneca at guard.
NFC North
4. Chicago Bears 6-10 (Last Year: 7-9)
(See. Baltimore Ravens) Replace the not yet washed up defensive star as Tommie Harris. Oh, and their top WR is their kick returner. I love Devin Hester as much as anyone, but comeon, that is sad.
Best Fantasy Player: Matt Forte, RB - The rookie RB will get the start when the season hits since former top overall pick Cedric Benson was released after being arrested twice in the off-season. I wouldn't get my hopes up though, the Bears and rookie RB's don't get along (Cedric Benson, Anthony Thomas, Curtis Enis, Rashaan Salaam).
3. Detroit Lions 8-8 (Last Year: 7-9)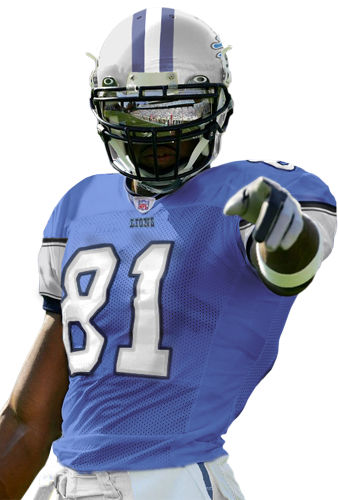 The Lions had aspirations of a 10-win season and the playoffs. They started off well enough, but faded near the end of the year. Now, Mike Martz, whom you could pin the offensive turn around on, is in San Francisco and reliable RB Kevin Jones was released and signed with da Bears. The good news is Calvin Johnson is actually a player unlike Charles Rogers and Mike Williams before him. Another plus is that they have the nicest stadium in the league. So they have that going for them.
Best Fantasy Player: Calvin Johnson, WR - Johnson was able to capitalize on his
freakish skills
and in spite of a bone bruise on his ass, put together a successful rookie year.
2. Green Bay Packers 10-6 (Last Year: 13-3)
So, what have the Pack been up to this off-season? Hmmm...well here is what I have to say as far as the Packers side of things are concerned. They took Favre's retirement and ran with it. Last year with Favre was an aberration. The two years before, Favre threw 38 TD's and 47 INT's while the Packers fell in to disrepair. Aaron Rodgers waited on the sidelines, and after Favre retired the beginning half of this off-season, he realized the Pack had moved on and he wasn't ready to be forgotten. So, depending on what reports you believe, Favre either expected the Pack to welcome him back with open arms, or he just wanted to be traded to a team of his choosing (the Vikings or Bears). Truth of the matter is what makes the Packers a good team is their defense and RB Ryan Grant. Aaron Rodgers is more than capable of leading this team. He won't put up typical Favre numbers, but that is not what is going to help this team win. I look for the Pack to move on much better than Favre will.
Best Fantasy Player: Ryan Grant, RB - The former NY Giant (heh, heh) blew up the scene last year, taking Brandon Jackson's starting RB role and pleasing fantasy owners across the country. He has had some contract squabbles, but the Pack need to meet his needs in order to succeed.
1. Minnesota Vikings 11-5 (Last Year: 8-8)
I suppose these guys are the sleeper pick of the year. Since everyone has them, I guess sleeper is the wrong word. I mentioned the potential of this team
last year
. They have the best offensive and defensive lines in the NFC, and they have the most explosive offensive player in the league (no, not Tavaris Jackson). The Vikings biggest concern is the ability of Jackson and newly signed WR Bernard Berrian to keep pressure off of the aforementioned most explosive player, Adrian Peterson. To say All Day burst onto the scene is borderline laughable. He slaughtered opposing teams and shattered rookie and NFL records in half a season. The injury bug will always follow him, perhaps more out of fear than reality, but that left side of the O-Line is in place which should render any 8,9,10 man boxes obsolete. He is worth the price of admission, as the saying goes.
Best Fantasy Player: Adrian Peterson, RB - He pretty much speaks for himself. He went from rookie to challenging LaDanian Tomlinson as the top pick in every fantasy draft. AD has unlimited potential, and I look forward to seeing him play this year.