In the spirit of Halloween, where children take on the persona's of ghosts, goblins, super heroes, and magical entities, I decided to create a list of a kind of Halloween for guys in their mid-20's. Here's how it's going down. I've compiled a list of the Top 5: Guys I'd Wanna Be. Meaning that as of this instant, I would trade lives with said person.
Now, when compiling this list I had to weigh in a lot of factors. By taking over this person's life, I would inherit everything that goes along with it. The person's personal life, finances, age, public perceptions, and daily pressures. For example, if I picked Alex Rodriguez I'd have a lot of money, but I'd also have the pressure to perform during the baseball season, a horrible public perception of being a total jerk and a selfish ass, and I'd be married to a wife I may or may not cheat on with
Canadian strippers
. So those are the things you have to weigh out when making these selections. Perhaps when you think about such a list some aspects may be more important to you than not (i.e. public perception, relative anonymity, marriage). Every one's standards are different, but I've compiled this list in respect to my personal preferences. Feel free to do the same for yours.
Just to be clear, whomever you choose, you'd maintain his ability/talent. So if you pick an athlete, singer, actor, whatever you keep his individual talent.
HONORABLE MENTION
These guys are all worthy candidates, but specific flaws or complications in their lives eliminate them from serious contention.
The Married:


Tony Parker, age 25, Pro Basketball Player


The Good: The French-born Parker plays point guard for the San Antonio Spurs. He won his third NBA Championship last year, also garnering Finals MVP. As a star in the NBA he easily pulls down millions of dollars a year via contract plus any sponsorships he may get.
The Flaw: After winning his 3rd NBA Title, Parker wed Desperate Housewives star Eva Longoria. Sure no one is complaining, but I would need to be unfettered.
Tiger Woods, age 31, Professional Golfer


The Good: Tiger Woods is a global icon. He makes more money than any athlete on the planet and is far and away the best golfer on a putting green now and probably for the next 10 years. He has his golf winnings, multiple endorsements, and the respect and admiration of pretty much any dude on the planet.

The Flaw: The life of a golfer is all consuming and strenuous, so it's good for Tiger to settle down and have some balance in his life. So in late 2004, he wed his one-time nanny, and more importantly one-time Swedish bikini model, Elin Nordegren.
Christian Bale, age 33, Actor


The Good: Christian Bale is probably the most bad ass actor out there today. His versatility and dedication to his roles are legendary and has such great movies under his belt as American Psycho, Equilibrium, Harsh Times, oh and he's Batman. He has the respect of his fellow actors, and he currently tops my list of favorite actors. He is a couple years away from an Oscar and the requisite pay checks will follow. Originally from Wales, he even has an accent.

The Flaw: Bale married Winona Rider's assistant in 2000.


The Old:


Richard Branson, age 57, Entrepreneur

The Good: The self-made British billionaire, Branson, has his hands in many ventures, the most successful being his company, Virgin, he started in 1970. Virgin now encompasses music, airlines, and retail stores.

The Flaw: While Branson lives his life out as a young man, the $7.8 billion he is worth isn't enough for me to want to be 57 years old. That's quite a leap.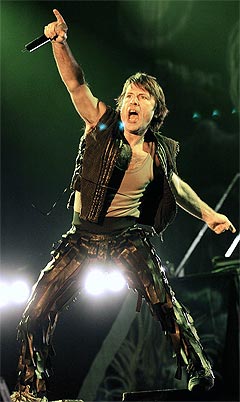 Bruce Dickinson, age 49, Musician

The Good: Lead singer for metal god's Iron Maiden, Bruce has rocked sold out arenas around the world since the early 80's. Despite the recent flux towards pop-rock and away from metal, Maiden still remain relevant around the world. Nothing can be cooler than being the lead singer of a rock band in front of thousands of people. He is known as a revolutionary front man, ushering in the operatic rock that Maiden is known for. His solo release, "Chemical Wedding," is also probably the greatest album of all-time.

The Flaw: Despite being fucking awesome, a pilot, world-class fencer, song writer, and of course front man, Bruce may have his best years behind him. Maiden recently announced a World Tour, and he can handle it now, but years to come may only make him shakier.



Jack Nicholson, age 70, Actor

The Good: Nicholson is a Hollywood icon and one of the coolest guys ever. He has tons of awards, all the respect in the world, and is known as not giving a fuck about anything. Known for being kind of a loose cannon, he represents old Hollywood, and there's nothing wrong with being a living legend.

The Flaw: If I had to pick a 70 year-old to be, it'd be him. He still gets the ladies, and has floor seats to the Lakers. Not a bad gig.


The Dads: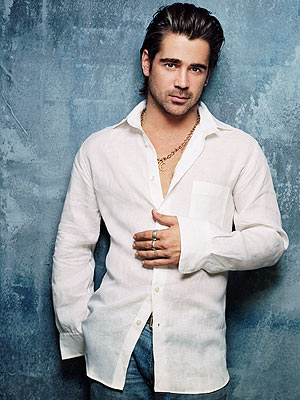 Colin Farrell, age 31, Actor

The Good: Farrell has been known to accompany many women to bed, which adds to his rough and tumble persona. He seems to get pretty decent projects thrown his way, working with directors like Terence Malick, Steven Spielberg, and Oliver Stone.

The Flaw: He has a kid wandering around somewhere from a past relationship. Beyond that, a lot of his movies are pretty awful and you have to wonder about his shelf-life longterm.



Brad Pitt, age 43, Actor

The Good: Pitt obviously has a lot of things going for him. One of Hollywood's elite actors, Pitt has a sparkling career and has great movies like Fight Club and Se7en to his name. Pitt recently began branching out in real estate and starting his own production company. Regarded as one of the best looking guys in Hollywood, Pitt is always referenced for his looks as well as his acting. He also ended his marriage with Jennifer Aniston to upgrade to Angelina Jolie. That's some man points right there.

The Flaw: Despite dating one of the hottest women on the planet in Jolie, again not complaining, he has about 15 adopted kid and one of his own. Just too much headache and concern to walk into.



Tom Brady, age 30, Professional Football Player


The Good: The "Golden Boy" was just that, and by all accounts still is. After winning the Super Bowl three times, the former 6th Round pick had the world at his finger tips. Well regarded as the best quarterback in the NFL, along with Peyton Manning, Brady is in the middle of a record setting year on his way to his 4th championship. Privately, he is known for being well-dressed and dating super models and actresses. He recently signed a large contract, and despite many offers, turns down many endorsement dollars. He also has God status in the New England region.

The Flaw: After dumping ex-girlfriend, actress/model, Bridget Moynahan
, things were going as planned for Brady as he moved on to super model Gisele Bundchen
. However, Brady soon became a daddy as it turned out Moynahan likely pulled the goalie on the Golden Boy. Some controversy arose, but Brady handled it like a champ and things seem to be fine.
The Just Missed:


Prince Harry of Wales, age 23, Royalty


The Good: There's nothing wrong with walking up to a girl in a bar and going, "Hi, I'm a prince." Plus being second in line the odds are he'll never have to worry about taking the throne, but still gets access to all the goodies.
The Flaw: Being a Prince, his life is constantly under the spotlight, and being the red-headed 2nd son will always be viewed as lower than his older bro, Prince William.
Ryan Gosling, age 26, Actor


The Good: Gosling is THE up and coming actor of the day. He will pretty much have any role he wants in a couple of years, and he has already been nominated for an Oscar. Recently single after ending his relationship with "The Notebook" co-star, Rachel McAdams
, Gosling is free to roam about, which shouldn't be hard since "The Notebook" made him an instant favorite to many ladies out there. He maintains a low profile, which is good for living a normal life.


The Flaw: He may not have the most preferable bankroll at this point, making it a bit of a gamble. Plus, he's Canadian.



Lewis Hamilton, age 22, Formula One Driver

The Good: Hamilton burst onto the stage as a F1 phenom. Finishing 2nd in total points after his rookie year, the young Hamilton has what it takes to fill to void left by retired F1 great Michael Schumacher. He gets to drive incredible cars incredibly fast, and I'm sure that goes a long way. As for the money issue, Schumacher was the 2nd highest grossing athlete two years ago behind only Tiger Woods so money won't be a problem.

The Flaw: Could be a bit of a gamble, like Gosling. Hamilton could be the Tiger Woods of racing, leading to an eventual move over to NASCAR, but he could die in a fiery crash. I'm not comfortable going with that.





THE TOP 5:

These are the head honchos. The guys that have pretty much everything going for them. Their flaws are limited, and you'd really have to dig to find something unpleasant about their lives.
5. Derek Jeter, age 33, Professional Baseball Player


The Good: Jeter gets $18 million a year to play shortstop for the New York Yankees. He won 4 World Series titles already, and is constantly referred to for his leadership, ability to win, and baseball skills (though sometimes overrated). Also being the premiere athlete in New York for the past 10 years, Jeter has been rumored to have been with: Mariah Carey, Jessica Alba, Scarlett Johansson, Gabrielle Union, Adriana Lima, Jessica Biel, Vanessa Minnillo, and former Miss Universe Lara Dutta. That's a murderer's row right there (clearly he prefers brains over beauty). I view Jeter's dating life like this: He's a gorgeous woman expert (see. wildlife expert) and it is his duty to tag and release these girls back into the wild. It's almost a right of passage for hot women to date Jeter to offically get hot woman status. He also finally won the immortal battle of Who Would You Rather Be: Tom Brady or Derek Jeter? It was close, but Tom's kid gives the win to Jeter.

The Flaw: As I said, Jeter dated all those women, see the past tense...not dat-ING, dat-ED. So that does nothing for me. Also, while he essentially gets a free ride from the New York media for his on-field ability, that soon may end as the Yankees may struggle in the years to come as his skills begin to diminish with age.


4. Prince Albert von Thurn und Taxis, age 23, Royalty

The Good: Prince Al is worth $2 billion from a German family fortune that dates back to the Holy Roman Empire. He is the youngest member of the Forbes Billionaires list, and basically doesn't have to work for the rest of his life. His fortune lies in real estate, art, and tech companies.

The Flaw: He's in Germany. He rules a lot of Germany. I don't wanna be in Germany, and I may have to stay there since it's my hood. If I didn't have to stay there, I'd buy a couple sports teams and hang out.


3. Cristiano Ronaldo, age 22, Professional Footballer (Soccer)



The Good: Cristiano is regarded as one of the top footballers in the world at the young age of 22. Having signed on with English giant, Manchester United, Ronaldo has the spotlight of being the top player on the world's top team. He is under contract until 2010, but after that you can be sure he'll sign one of the biggest contracts in sport. Think of him as the new David Beckham, only with 100x more talent. Also, at a young age Cristiano is constantly in British tabloids that focus on what model he is currently with.

The Flaw: The constant sports pressure of having to perform all the time. While Ronaldo does have respect from a lot of people, there is still a lot of criticism about his whining and poor temper on the pitch. Plus, having it all tends to send a lot of negative energy your way.


2. Justin Timberlake, age 26, Musician

The Good: Coming from 'N SYNC, JT has done the impossible and shed his boy band image to be one of the top music acts in the world. Perfecting his pop, hip-hop mix, Timberlake has earned the respect of musicians from all different kinds of music. He has worked alongside 50 Cent, Timbaland, and T.I. to push his street cred to new levels. Recently, he has begun to branch out into acting and other avenues that will only add to his bankroll. He also is an excellent Saturday Night Live host starring in the legendary "Dick in a Box" song and one of my favorite skits "The Barry Gibb Show." While that is miraculous in itself, what really puts JT at #2 is that since his split from 'N SYNC, the only legitimate poor career move you can pin on him is dating Cameron Diaz for too long! He was with Britney Spears and like a stock broker, sold that stock at its highest peak as her career fell apart and his sky rocketed, then moved onto Cameron Diaz for a few years, and he is now with Jeter ex, Jessica Biel. I say he shouldn't have been with Diaz for so long because he's a young guy, he should be out there, not tied up to an older woman. Even if that woman is Cameron Diaz.

The Flaw: I don't think I could ever move passed the whole boy band thing. It would eat me up inside and probably lead me to a drug overdose.


1. Theo Epstein, age 33, General Manager of the Boston Red Sox

The Good: Theo is the brainchild of the Red Sox. He brought Boston their first World Series in 86 years, and he was the youngest General Manager in professional sports. Recently, he brought yet another championship by holding onto younger talent and not mortgaging the future. Although some of his moves have been suspect, he was man enough to let go of some key players from the 2004 Red Sox team that allowed the Sox to win again this past year. The proof is in the pudding, and Theo just wins. He is young and, like Brady, had God-status. What makes Theo's life most preferable is that he has my dream job, GM of a baseball team, he makes plenty of money, and most importantly of all, he can still live a semi-normal life. Epstein doesn't have the allure of mega-stars like Timberlake, and he will only have to be judged on his moves as GM, something I'm fine with. Also, he is unfettered with no wife or kids. He still has plenty of quality years ahead of him, and eveything is going right for the guy.

The Flaw: None.